Welcome to the Orlandia Wikia
Orlandia is a fictional setting for Anime Festival Orlando's Interactive Convention Experience (ICE). It consists of on-stage skits, card games, quests, and small events throughout the convention.
Previous Orlandia Themes:
About Anime Festival Orlando.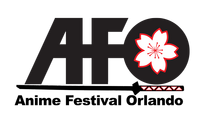 Anime Festival Orlando (AFO) is a 3-day anime convention that takes place annually in Orlando, Florida.
Photos and videos are a great way to add visuals to your wiki. Find videos about your topic by exploring Wikia's Video Library.